After Bocas, I went to Panama City. Man, I love this city! I don't know why exactly, perhaps because it has all the elements I loved about India while at the same time is so cosmopolitan and modern(!) at some places, that one can always take a breather of the chaotic streets and pedestrian zones of the city centre. In my next blog post I will also write about the one big thing I like the most about Panama City :-)
The following are the thoughts I had when I went through a particular(ly funny) supermarket near my hostel. Of course, like almost all mini-supermarkets, this supermarket was also run by Chinese ("Chinos"). These "mini super"s are typically quite narrow but deep, the cash point is at the front and the shelves go into the shop.
In the entrance of the supermarket, a woman and a man clamored loudly about politics(?). While still wondering whether they were drunk or just like that, I almost stumbled over some men who were playing some kind of card game with dominos(?) on the pavement right next to the supermarket entrance. Inside, I had to climb over some obstacles to actually get to the shelves cause there was just stuff lying around in the middle of the already narrow gangways :-) The goods themselves kinda just unmotivatedly lied around in the shelves like all that shit that piles up on your bedside table (or desktop) after some time. – What is being sold and what is just lying there? Hmm, I guess that carton of milk on the floor next to the fridge and that orange juice with the straw already inside the carton are not being sold. Probably there is some private area in that supermarket-fridge? And what is this further in the back of the shop? Is this underwear on a line? Is someone doing laundry in the supermarket? I also hear someone watching TV there. Ah true, I see some kind of living area there. So yeah, better not enter too deep into the supermarket, I don't want to end up in someone's living room. Just when I got my stuff and backed out of the shop, some dwarf came inside and also started shouting something repeatedly, I think about him being a dwarf, which made the situation …quite bizarre.
Almost next door, there was a modern McDonalds-like fast food restaurant.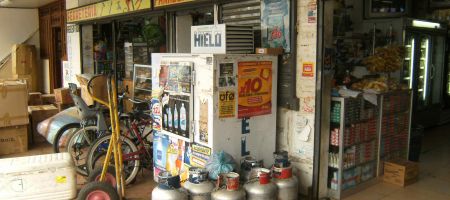 One of these "mini super"s. Not the one I was writing about though.