It's been a while since my last post. No, I am not stranded somewhere in China but long back in Germany. Time to wrap this up with some photos of Songkran to which we came back from China just in time for to our home in Rangsit.
Classically, Songkran is the celebration of New Year (Does every county have its own calendar or what?) in the Thai lunar calendar, in the middle of the hot season. And at least in Bangkok and other big cities, it is celebrated as giant city-wide water fight. Especially in the backpacker tourist area Banglapoo.
Khaosan Road, the heart of Banglapoo, was a watery hell that day. Lena insisted on going into that street, she came back soaked from top to toe – even though she didn't even have a weapon. Well, the western tourists seem to have the biggest water guns but also make the best target. The area was so full on these days that I guess that many western tourists come to Thailand just for the water fight.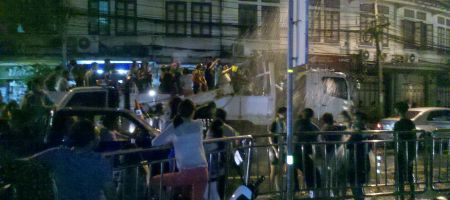 Getting away from the center of the action, where there was enough place for cars on the street, the battle continued. We've seen loads of pickups, trucks and tuk-tuks loaded with gangs of water gun slinging and trigger-happy Thais.
After Songkran, Lena just had enough time left to do a course of Vipassana meditation on her own (but at Wat Suan Mokkh) and I used the time to take some vacation in the island world of south Thailand.
Comment