Tattapani is the name of a village in Himachal Pradesh. It's located in a beautiful valley two hours north of Shimla (See Google maps or Google Earth KMZ file!). There are palmtrees all around and a crystal clear turquoise but rapid river goes through the valley. There are many beaches stretching at the river that offer an amazing view. Overall, it looks very tropical.1
Anyhow, I only reached Tattapani by pure chance. I originally wanted to go to the Kullu valley but as it turned out, when I finally reached Shimla, I had not enough time to get there. Because I only wanted to wander in the mountains, I just got on the next bus that was going to some valleys and villages around Shimla.
It is amazing how many people can travel with a bus with just 20 seats: I counted 80. (About 20 on the roof) :D
The Lonely Planet has just a quarter of a page to say about this village but it is a really nice place to hang about for a few days. I stayed at spring view hotel which is directly at one beach and has it's own hot sulphur springs just next to the hotel. The owner of the hotel organizes small rafting tours, too. I didn't do that but on the next weekend in Rishikesh. Instead, I walked to the Shiva cave (about 2 hrs up the mountains if you walk slowly).
The cave was not that interesting, there was just one old guru living in the cave who murmured prayers (I guess) all the time and rebukes strangers that enter with their shoes on. He was looking so grumpy that I didn't dare to disturb him in his prayers by making a photo of his appearance.
But it was fun to communicate with some farmer girls I met at the small stream near the cave. I couldn't speak any Hindi and one only spoke very basic English… a pen and a big notebook are really worth gold. :-)
---
1
which is not normal in Himachal Pradesh. The landscape there more reminds one of the Alps and Austria.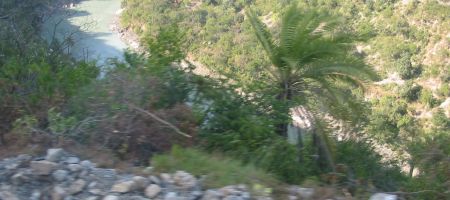 From the bus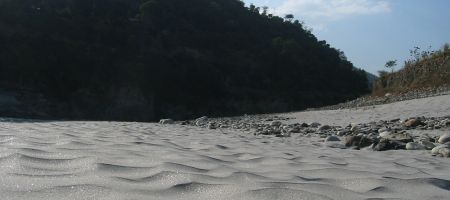 The beach. The sand was oddly glittering so I saved some of it – I mean, may be gold?!?!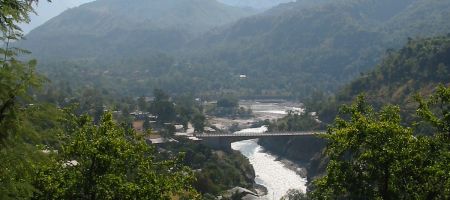 View to Tattapani from higher up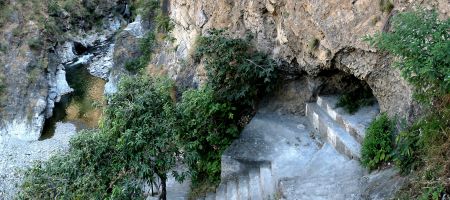 Near the cave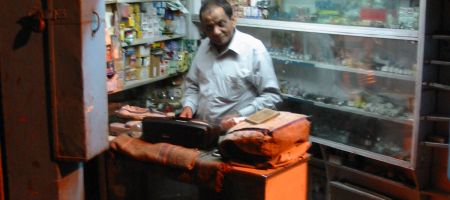 Back in Shimla: The smallest proper (indoor) shop I've ever seen. This should be about 1qm :D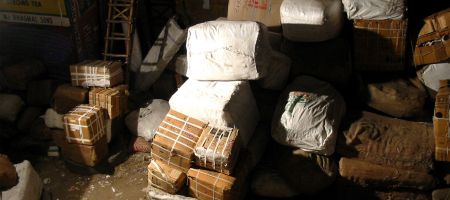 This is how parcels are stored in Shimla (outdoors). So, Clonkonaut, Mad… if the letters aren't there yet, perhaps they are in that tire over there? Who knows :-\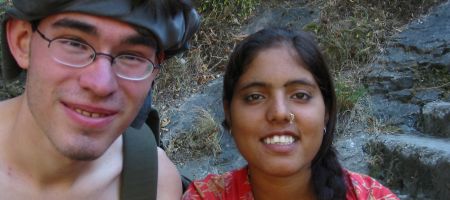 Asha and me.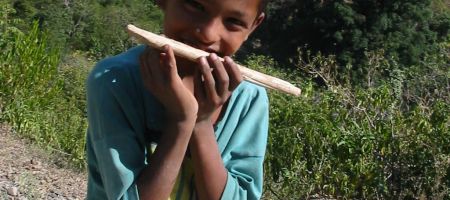 Ashas younger brother… sweet :-)
Comment
Hallo Tobias,
hoffe es geht dir nach deiner Augen OP gut. Du kriegst ja eine Menge zu sehen, deine Fotos sind sehr informativ. Wir wünschen dir noch eine interessante Zeit in Indien.
Renate und Willi
— Renate Friedrichsen · Nov 27, 09:15 PM · #