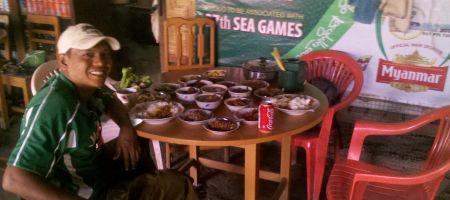 Meet Khaing Gyi. Khaing Gyi is 28 years old, comes from an extended family, is a family father with 2 children and currently earns his living as a motortaxi driver in Mandalay. His English is astoundingly good given that practically everything he knows about the language is what he taught to himself and in conversation with foreigners. He only ever went to primary school.
Many travelers who visit Mandalay rent a motorcycle with driver for a day for a flat rate of 15000 Kjat to visit some attractions in and around the town. So I happened to end up with him and it turned out to become an unforgettable experience: He quickly noticed that I am not that interested in seeing the classical tourist attractions, so he went to show me some of the local places as well.
Other than the tourist destinations, we drove through the countryside and through residential back-alleys, both of which are more interesting than they sound at first (just look at the previous article).
A British couple who are photographers made him a website. (And actually, he seems to have a second one. I wonder how that came together. Anyhow, the first one is the one he told me about.
If you go to Mandalay, say "hi" from me.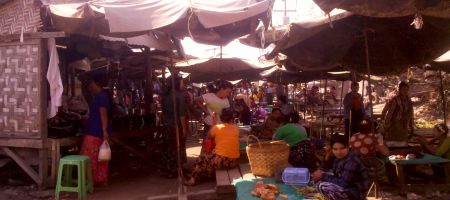 Just a market in the outskirts of Mandalay we stopped at on my request.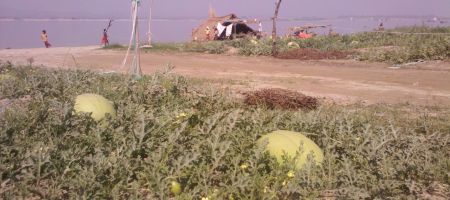 Along the river Ayeyarwady there are some melon farms in the tidal area of that river. Khaing Gyi told me that the 3 months or so of winter are the only time in which the area can be used agriculturally because during rain season, the area is flooded and during hot season, it is too dry for anything to grow. Otherwise, the ground seems to be perfect for melons. It is harvesting time now.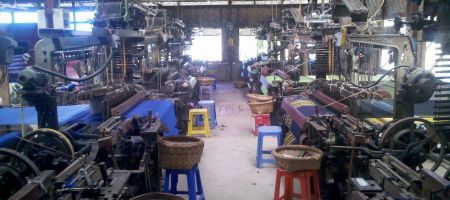 The highlight for me was this textile factory hidden in a back alley of some residential area, right next to a ruined chedi. This place was not even on his itinerary of the things he wanted to show me. We just got lost a bit on our way through Mandalay's suburbs (which look like rural villages) when I heard a loud repetitive sound coming from inside some bamboo houses. When I asked about it, he said we could have a look and stopped. So that is how we got there.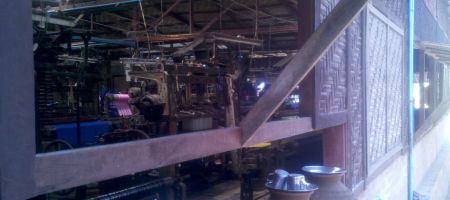 A view inside from one of the windows. The clay jugs you see outside in front is something typical for Myanmar. They are filled with drinking water and are a courtesy for thirsty passers-by.
The factories were quite small (perhaps 4×4 machines each), so small that they might be family businesses. Something I forgot to ask because I was too flabbergasted by the fact they'd just let us march into (and take photos of) their house/factory.
They didn't seem to mind at all but at the same time didn't show any obtrusive curiosity. This friendly prudence is something I came to like about the Burmese people. (After all, we are close to India here.)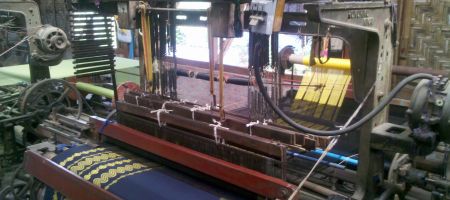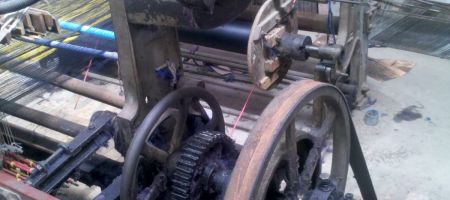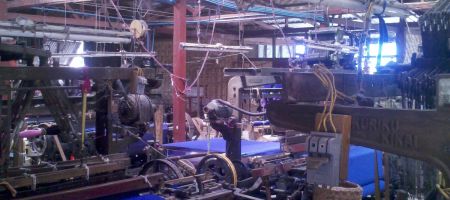 The machines themselves could have been out of a museum. Cast iron and propelled by a single shaft (per row). But they were in a good shape, as far as I can tell.
Some more photos of the day trip with him: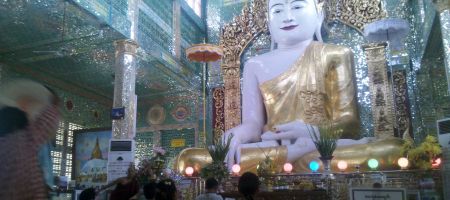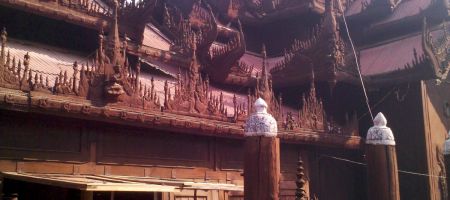 Buddhist temples in Burma look quite different from those in Thailand. Also, many temples are built traditionally out of wood. Just like the royal palace in Mandalay. It burned to the ground in WW2, though.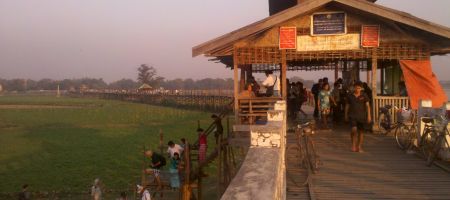 The U Bein Bridge, the longest and oldest teak wood bridge. (See nicer photos.) While I was on it, a supporting beam fell down and floated away. It is indeed very old.

Local fishermen at the same bridge. Those things they were carrying the catch in were their longyis (their trousers). Very versatile. :-)