I got an extra long weekend off because of Gandhi's birthday and because I took a leave for one day. I originally wanted to go for trekking in Kinnaur-valley but the others didn't want to travel fifteen hours in an ordinary (local) bus over night.
So, after an exhausting eight hours journey still on an ordinary bus from Chandigarh into the Himalayas, we finally reached Upper Daramshalah, also known as Mcleod Ganj. Mcleod Ganj is the residence of the exile government of Tibet and the Dalai Lama. Since the Chinese invaded and built up a brutal military regime in Tibet, destroyed most Bhuddist monasteries by now and killed hundred thousands, many Tibetians fled to this place and other places in Himachal Pradesh since then.
Anyway, Mcleod Ganj is not a refugee camp but a really pleasant Tibetian community. Because of that, Mcleod Ganj is and has been a favourite destination for Western backpackers and yogis as much as Bhuddist monks. It's a really relaxing athmosphere here, many tourists attend meditation, yoga, reiki or any other kind of spiritual fu here. You can get massages, buy funny esotheric books and artifacts here or just sit in a cafe, enjoy the great view and drink a nice cup of masala tea.1
It's really very touristy here but I think it affected this town in a good way. Of course, all have more money now, but this is not what I mean: I believe, many esotheric and spiritual practices spread in the Western world claim to be originated in spiritual and religious places like Mcleod Ganj or Rishikesh. After all, India, Tibet, Himalayas etc. sound very exotic and mysterious if you are far away and don't know how it is really there. You suspect, you begin to believe.2
So, many tourists come here with the expectation of this being a shrine, a source of spiritualism, a point where it all comes together… thats why you find exactly this here.
The Western people seeking for spiritual salvation are influencing the culture here to something they (or we) expect. A place to hang out, have a joint, attend courses ("learn X in 5 days") and get a nice sip of spiritualism. It is really nice here and I wish I could have stayed longer to actually do all this stuff. I just should keep in mind, that this town is different from what you would experience as spiritualism in other places in India.
But this is just my first impression, I got no big insights in that.
Anyway, I couldn't help but buy cool spiritual stuff there, get some funny clothing, a massage and do some sightseeing of course.
On the last day there, I went to the mountains with John.
The views were plainly awesome! There were actual clouds climbing up the mountains besides us.
---
1
a tea out of a mix of Indian spices like ginger and cinnamon, it's sweetened with a lot of sugar and milk
2 The wizards of the disc world are somewhat nonreligious: They don't believe in the gods at all. They do not deny that they exist but you see, they don't believe in the postman neither. The postman is just there as much as the gods – and sometimes they come to have dinner. They don't believe because they know them personally.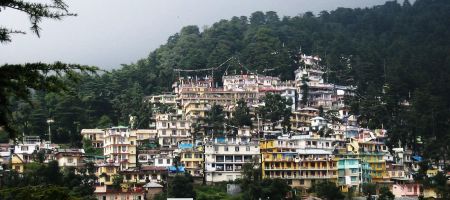 Some houses at McLeod Ganj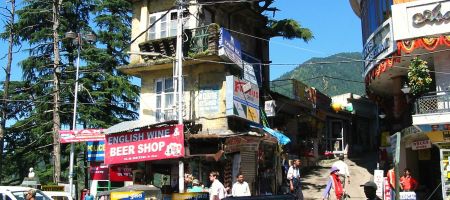 This is the main bus stand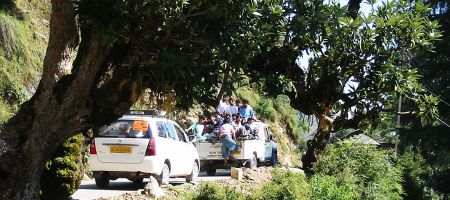 Indians really have no sense for danger…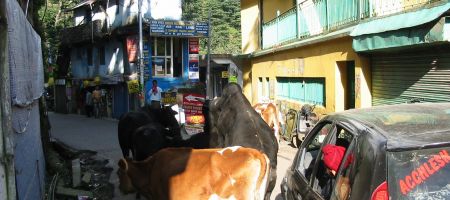 Fucking cows (blocking the road)… oh man, I should have done a video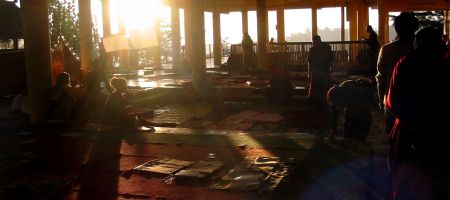 The Bhuddist temple on the evening before the Dalei Lama held his readings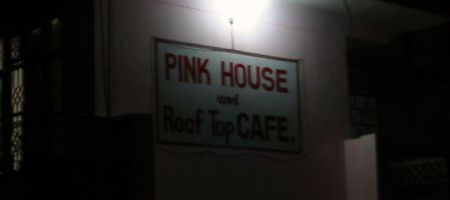 I topped your violet hotel, Senana :P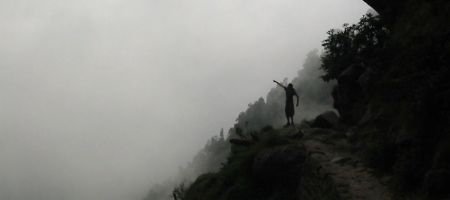 "To boldly go where no man has gone before" ;)
The path leads upwards
Comment
Na Alter! Ganz schön krass was Du alles zu sehen bekommst und v.a. wie subtil Du die Dinge beobachtest und beschreibst. Es gibt ja Menschen, die haben die ganze Welt bereist aber bleiben so dumpf wie zuvor. Das ist bei Dir ganz sicher nicht der Fall Bruder! Ich habe mir nun mein "Wikingerschiff" gekauft, eine dänische Smakke. Hier schon mal paar Bilder: http://www.facebook.com/album.php?aid=5802&l=fc830&id=549532319
Im Frühjahr wirds dann geteert (ganz nach der alten Art). Ja, auch für mich ist ein Traum in Erfüllung gegangen, ich kann es kaum erwarten damit zu segeln. Ich habe Dich schon als Fockaffe eingeteilt (und Nils als Kielschwein). Beste Grüße, Daniel
Hey Daniel
That's fantastic! The photos are really nice. Perhaps facebook or an alternative would be something for me too.
But let me put something straight: I'll only sail with you as captain ;)
Hi Tobi!
You will sail 'with me as captain'....yes of course, obviously!!