Another thing I noticed on Ometepe was the odd condition of the beaches.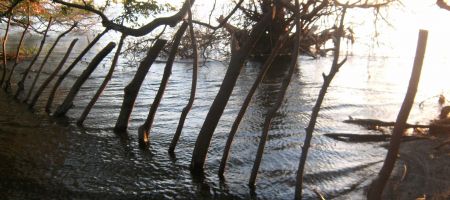 At the hostel I stayed, there was supposed to be a beach. There was none. And at the beaches near it, lots of disrooted trees were lying across the narrow beach. Rey (see last post) told me that normally, the water in the lake is several meters lower than it is this year. During the last rain season, it rained much much more than usual, creating a flood that made hotels near the beach repair the damages months after. With the water still being as high as now (my hostel had a sand beach, but it is under water now) at the end of the dry season, the people on and around the Nicaragua lake will have to face an even higher flood. According to him, it is the biggest flood since 30 years.
Now that I was also in Guatemala at the Atitlan lake, I can say it is the same situation there: vanished sand beaches, disrooted trees and even flooded buildings. Actually, the flood there is this high that they had to rebuild many of the docks as the old dock is now under water. According to a local, the water now at the end of the dry season is 3 meters higher than normal. He said, the last time the water was this high was during the eighties. If the next rain season will be similar, many lakeside hotels and houses will be flooded.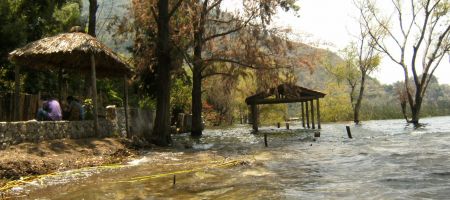 A building at the docks at the Atitlan lake