From Na Hin at route 8 about 40 km south there is Ban Cong Lor. Of the caves I have visited, Kong Lor Cave was the most impressing one. It is actually an underground river that connects Ban Kong Lor and Ban Natan each on different sides of a mountain range (see the map!). The cave is about 8 km long and it's dimensions are breathtaking. Dimensions of which I thought before would only exist in movies; It really boost your imagination.
While going into the mouth of the cave, I fantasized about the cave being a giant ancient (petrified) monster. Later deeper in the cave, it was easy to imagine whole settlements alongside the riverbank, like the dwarves' caves of the Lord of the Rings movies. To quote the Lonely Planet, often the ceiling really is church-high.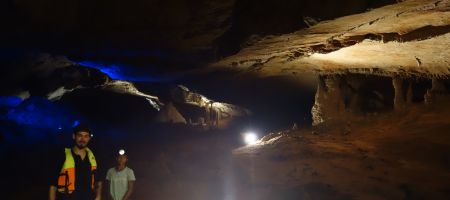 What puzzles me though is that at one point I saw a trunk of a tree stuck in the ceiling in a height of about 5-10 metres. How did it get there? It seems unrealistic that the river can rise to that height, given that I already visited the cave in the (end of) rain season.
In the same valley, we also just walked around near the village one afternoon and stumbled upon another (small, "normal-sized") cave that we wanted to explore after fetching our headlights from the guesthouse. Though, after 50 metres into the cave or so and one flipflop lost later, we gave up. It was just too muddy, slippery and tight. According to the neighbour, it is called Porcupine Cave (translated) and there ought to be an exit some 100 metres from the entrance.
Deservedly but sadly as it will transform this tranquil and authentic village somewhat, the development of this cave will bring Ban Kong Lor a tourist boom in the short future. A paved road has been finished to the village a few years ago(?) and now there is even a direct tourist bus from Vientaine.
Otherwise, it's surrounding landscape with it's rice fields in the flatland and steep mountains surrounding the valleys is somewhat similar to that near Vang Vieng, which is also famous for it's many caves (amongst other things)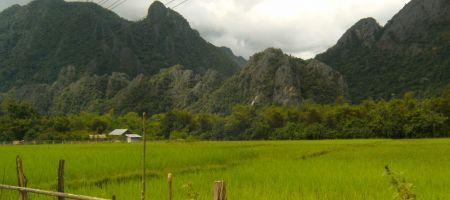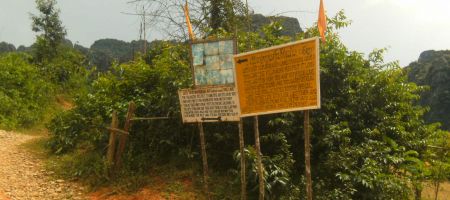 These pictures are from Vang Vieng
One particularly interesting cave near Vang Vieng one is Tham Phu Kam. With Kong Lor Cave mentioned in the same article, it is hard to use superlatives, but… well, every cave is unique. And even though it might not be, this cave feels quite untouched: Except for a few painted red arrows and one "Danger" sign in front of a bottomless pit inmidst the cave (not so much as a rail), there is nothing that guides one through there.
One is on his own and for a cave as big as this, it is a exciting experience to explore it.
Danger sign and the pit. I didn't find a pebble.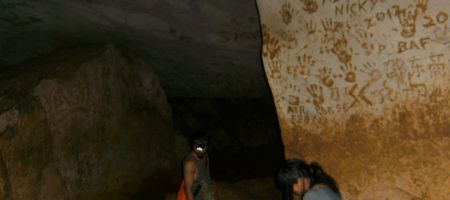 Spelunker graffiti in/below the second cavern written in mud. Let me make a hypothesis here: §1 – In every graffitied place, there exists at least one penis.
The way in this cave is quite unclear. The cave is to a certain extent 3D and there seem to be several caverns branching off in different directions, not sure though and not sure if they'd be big enough for a human. The main way continues over several (three) "Kong Lor-huge" caverns into absolute darkness, meeting an underground stream further down. It looked like it would be possible to go even further into the cave by following the underground stream but we'd have had to cross the muddy stream first and we were too afraid to do that in our flipflops and no gear except headlights.
Also, did you know that the eyes of big cave spiders reflect light like tiny little reflectors? The reflection can be mistaken as a drop of water. Stuff that suddenly jumps from you won't be spiders though but some kind of cave crickets.

Out again. The first cavern receives sunlight from a hole in the ceiling. (The gold roof to the left contains a roughly human-sized reclining Buddha).