When I travelled only on the weekends, I had pauses from travelling where I could review and write down what happened. Now, these two weeks of travelling India are so busy and so much is happening that I have barely the time to write it all down.
Anyway, after the courses in Rishikesh I went to Delhi to welcome Jens and Joern to India. We didn't make any plans where to go so after some days in Delhi, we visited my place (traineehouse) in Chandigarh first to unload some stuff. We wanted to travel light, only with a small backpack. As for me, I don't even have a towel with me ;) It's interesting to see how they see Delhi and India as I feel that I begin to think that everything is very normal here. My brain starts to ignore certain things on the street to let me concentrate on the things that matter – I remember when I first came to Delhi I was so overwhelmed that I even didn't really notice what the shops in Paharganj were selling. I guess my culture shock was bigger than I thought. Jens and Joern did already travel in other countries in South Asia so I guess it was not so much of a big deal for them. Joern said that Old Delhi looks like the typical third world chaos only more extreme. Also, they were surprised of how dirty, smelly and full of garbage India is and how unnerving and aggressive (not physical) people on the street are. In summary, how "derbe abgefuckt" ("grossly fucked up") it is here. But very amusing.
Actually, we made so many jokes about Indians, their maintainance policies and customs ("lets just sit down and shit in the middle of the street") that Joern joked that we have to watch out to not return to Germany as a Nazis ;D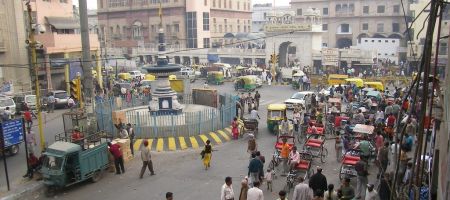 Where is Waldo? Find Jens and Joern!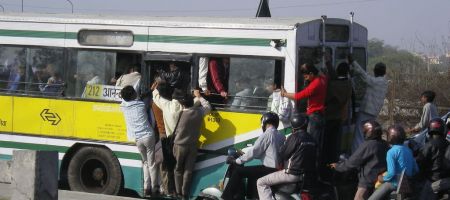 Rush hour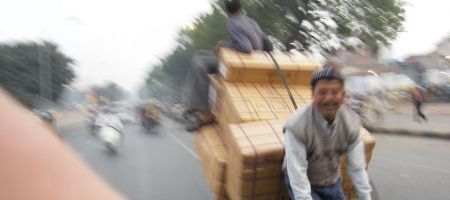 Extreme overload :D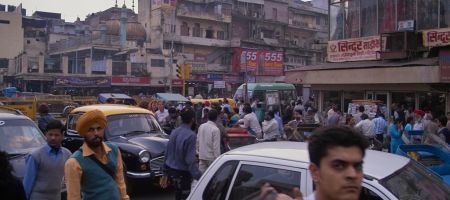 Chaotic streets