The lake of Nicaragua is the biggest lake in central america and right in the middle of it, there lies a truly magical island called Ometepe. The island was formed by two volcanoes, one of which is still active. It is a pretty rural place, great for exploring the nature or just hanging around. Here are some impressions.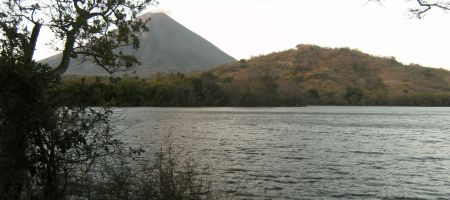 One of the volcanoes seen from the other side of a lake on the island.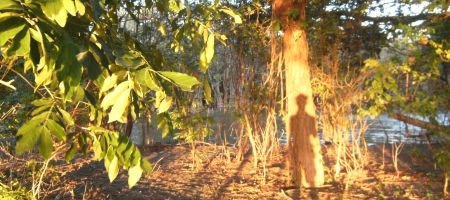 Thats me :-) … in the background, mangrove trees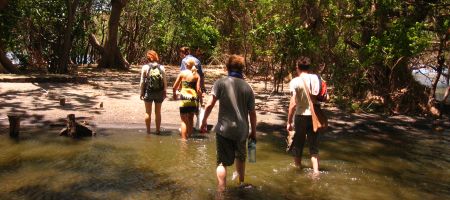 Exploring the island…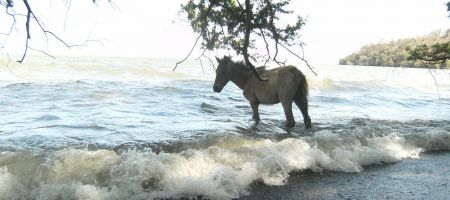 When we were at the beach, there suddenly appeared a group of horses (and earlier: cows) out of the nowhere to take a dip in the lake :-)
More adventurous than the island itself however was the boat ride from San Jorge to Ometepe. A "proper" ferry to the island was only leaving every few hours, the other passengers were transported by smaller wooden ships.
Since these kind of transports were also about one dollar cheaper than the ferry, I went onto one of those wooden boats. These boats are also used to transport cargo to the island so before we left, the crew went to greath lengths to stuff as many people and as much cargo inside the boat as possible. :-)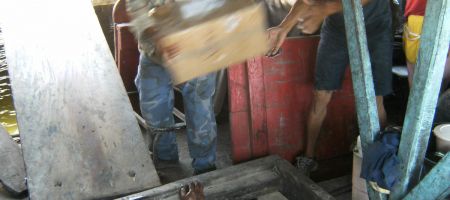 Loading into the cargo hold
The cargo for this boat mainly consisted of soda tins and sacks full of sugar which were thrown into the cargo hold and er… between the passenger benches.
But well,… those boats really came into age I guess: during the way, the crew had to operate a (manual) pump all the time to pump the water which got onto the passenger deck out of the ship again. Didn´t help too much to keep our feet or luggage dry though ;-)
Later while on the island, I saw two ships of the same type in a "dry dock" on the beach where large scale repairs were being conducted.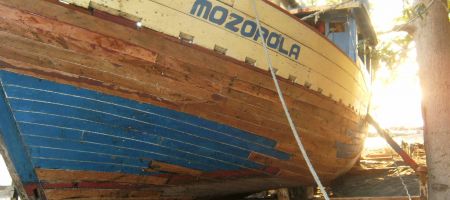 The wood which has not been painted is the replaced wood
I talked with one of the workers that introduced himself with "Me llamo Rey, como el Rey de Espana" (I am Rey, like the King of Spain). He told me that the ships on the beach are kinda emergency-repaired right now because they were sinking during their (last) journey. Having in mind the condition of the ship I came, I imagine their sinking was a little bit more serious than the passengers getting their feet wet. While the repairs are being conducted, there is no replacement for the routes that they served.