So on my first afternoon in Myanmar, I took a stroll in downtown Yangon. After only one hour, I had to return to the hotel because I was so exhausted from the many impressions I got.
I felt strongly reminded of my first trip to foreign lands more than ten years ago, to Delhi in India. There are many differences of course, I mean in the sense that it is overwhelming:
Such heat, so many people, the chaotic traffic situation, garbage and animals all around the place, so many things happening at the same time.
The photos do not capture that impression so well, as I tend to not point my camera on people – which is difficult there of course, what's left is to make pictures of the streetside in general.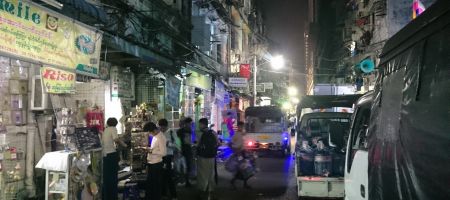 My impression of the people though is that they are uniquely honest, kind and relaxed. I have rarely seen anyone get loud with anyone, not even saw small children cry – even though they are everywhere.
Often, people would just greet us and/or start a small conversation, just out of curiosity.
Don't get me wrong, there are touts, but my experience is that as natural as everyone else and when you show no interest in what they offer, kindly leave you be.
Comment