I stayed back in office today to have a bit of online life again and now it's 21:30. That means that the last bus already left so I can even stay longer ;-)
Just chatting with Felix who remarked that I only write about my travel and not really about the office, the daily life, AIESEC and the trainees. He is right, I should write more about it. So since I can't get home now anyway, I can start right now ;-)
I live in a house in sector 21 with fifteen other trainees. But sector 21… well, basically sucks. The only good thing is that it is close to the center (sector 17) and the bus stand, but since it's so near to the center, it's pretty expensive while the house is pretty bad. There is only one 3mx1.5m kitchen and the house is not in a good condition. For example we got power cuts (more than the neighborhood ;-)) all the time until recently when an electrician came by. What he did was to re affix some cables that were hanging loosely in front of the main door by hang it on the holder for the (non-working) lamp over the door. It's not that bad as the cable salad in Delhi but I realized that the cables hanging around on that image are actually as much in use as the cables hanging over our front door! Ohmygod. But a good example for Indian care for proper maintenance.
But I stay there because I got good company there and don't want to waste the time on the weekends to search for new flats. I'll rather travel.
There are almost no interesting shops in sector 21, only biker shops, some sweet shops and workshops. I don't understand the tendency for equal shops to pile up all at the same place: If you opened up a shop where one can buy helmets, would you go to a place where there are 5 other shops or rather to a place where there is no helmet-shop? Anyways, there are some useful shops that I can easily reach on foot, too. Just around the corner, there is a barber shop and something like a telephone box and copy shop. OK, the barber shop is actually a mirror hanging on the tree with a chair in front of it but honestly – it does the job, right? I got used to those kind of shops ;-). The telephone box is the front room of a flat where there are 5 telephones on the table and one copy machine in the back – that's the place from where I have been calling you guys.
So I normally go shopping in Sector 22, there is much more. Even a (for Western standards) very very small super market which is… CLEAN (Oh my god)! Other department stores literally stink of dirt, if you'd see such a shop in Germany, you will never ever go shopping in such a shop. The good thing about that super market is, that you can buy fruits and vegetables there. No other department stores sell such things, I'd have to cycle to the vegetable bazaar in Sector 20. In (the middle of) Sector 22, there is a big clothes bazaar where you can buy reaally cheap clothes and other textiles if you bargain1.
---
1 A dialog. Me: "OK, honestly: This is not original, it's a copy right?" – Seller: "Haa, yes, it's an original duplicate copy!" (in a tone that suggests that this is a very good thing) :-)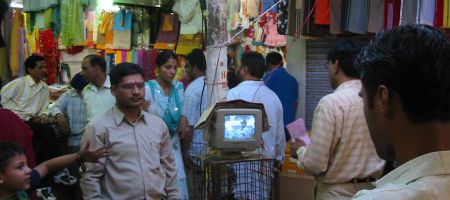 The bazaar. The TV is cute. :-)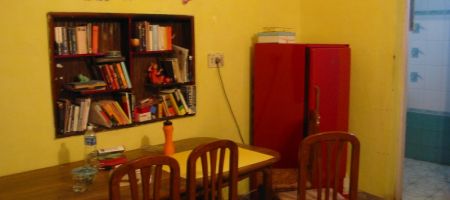 Dining room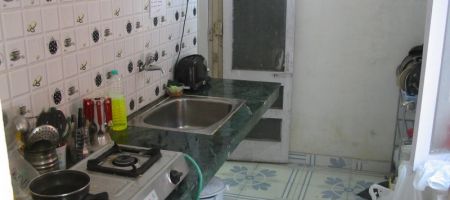 The kitchen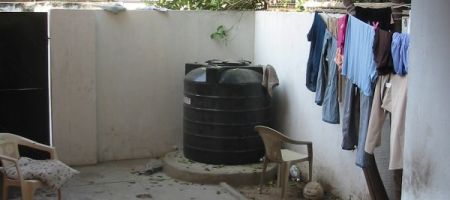 Backyard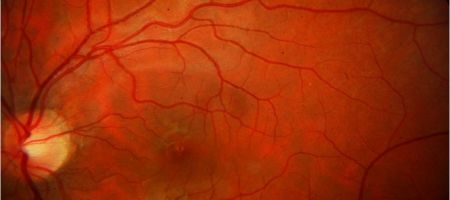 And now for something completely different: My eye from the inside.
Comment
..I would actually like to see some photos of your dwelling and the surroundings!