Semana Santa is what is for us Easter. However, as the name suggests (=Holy week), it is a much bigger thing in Central America. It is one week full of processions, other religious rituals and a tremendous stream of locals that use the opportunity to have a vacation with the family and rush to tourist locations, primarily beaches. The beaches were incredibly full during Semana Santa.
In Nicaragua, this lead to a traffic situation on the public busses that was as bad as the normal situation in Guatemala. Taxi drivers telling you "no hay autobuses" (=there are not busses) were not even really lying – all the busses were packed!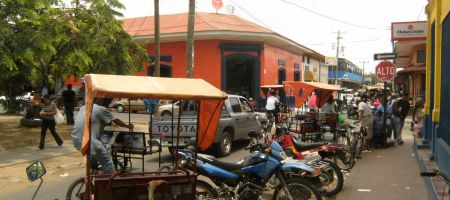 Semana Santa chaos in Rivas, Nicaragua
In the bus
Thorsten was ranting about
.
However, we succeeded in mostly avoiding the crowd, except for the one or the other (accidental) bump into the processions.
Just to give you a short insight: In a procession, they carry figures of Jesus (normally carrying the cross), Maria and sometimes other saints through the town into a church, where a short mass is held afterwards. A procession is accompanied by a priest, an orchestra of brass players, a cart with a diesel generator to light the figures ("wrwrwrwr…") after dark and of course lots of people who march together with procession.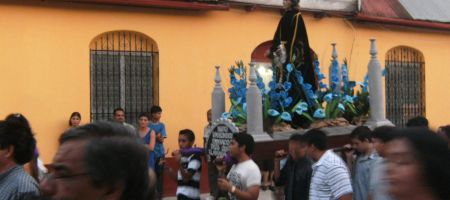 A snapshot of a procession in Flores, Guatemala. I think this is Maria.
Before the procession starts, however, the locals often create colorful "alfombras" (=carpets) out of dyed sawdust along the way of the procession. In Granada, a van with megaphones roamed through the town hours before to announce the procession.
One of the alfombras in Solola, Guatemala.