Me and Julia were off doing a bit of sightseeing and exploring the city.
The architecture of Delhi looks very… special because the buildings have been growing with the time. It looks like they actually built several houses or huts on top of each other. They look really horrid (from the view of an architect), too. But they seem to have at least the stability to remain on top of each other.
But in Old Delhi, it looks so bad that I wonder why it doesn't all collapse. Old Delhi is really frightening. The poverty seems to be even more extreme there.
I visited the Red Fort and India's biggest mosque, the Jama Majd. I've never been to a mosque before but it was really nice there. Joerdis pointed out, that a mosque appears to be much more than a place to pray. It's more of a social meeting point, to meet friends and family, talk, take a nap and so on. I totally agree with her.
However, when I was there with Julia, I got the impression that we were the real attraction for the locals. Kids were running after us all the time and wanted photos with us. After all, we were one blond woman and a tall man with long hair and a metal-t-shirt from Germany. I guess we looked really exotic to them.
New Delhi is quite the opposite of Old Delhi. Connaught place has nice bits of British colonial architecture, even though there isn't much left because the Indians just have no sense for maintenance ;-). The streets are broad, the cars drive more or less in order an you can actually walk on the pavement! The shops are pretty Western and they got a nice park in the middle. There are even people with brooms who are employed to sweep the pavements. And that's what they do. They actually shove the waste from the pavement on to the street! This kind of waste disposal may look odd for us, but is pretty logical in a city without any(?) garbage cans: Their standard method of getting rid of garbage is to put it somewhere else.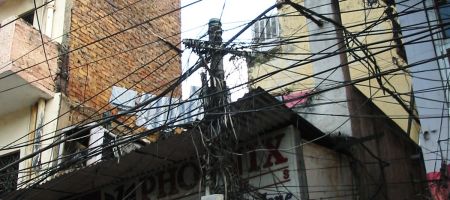 Cable-salad is healthy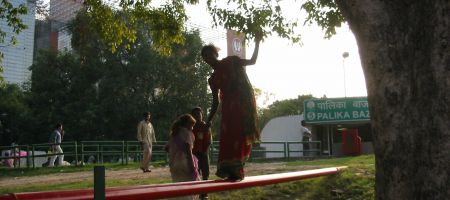 Playing kids at Connaught place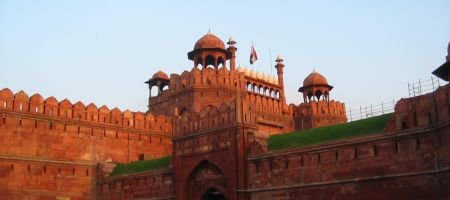 The Red Fort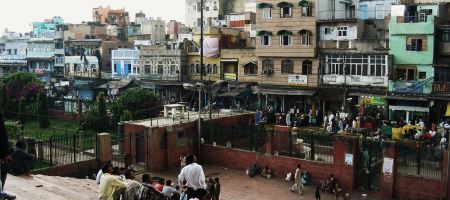 Buildings at the Jama Majid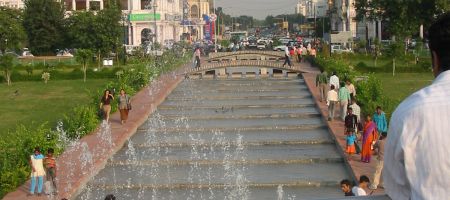 The park at Connaught Place