Here are some pictures of some less common gasoline stations. But still they can be seen here and there. Thailand shows that the gasoline business might not have to be a monopoly.
Imagine, what if it were common in Germany that bakeries also sell gasoline? Would it be weird? No, if it was common, it would be common, it's just a matter of what we learnt to consider normal.
In other countries, there are no bakeries at all and people buy plastic-packaged single slices of toast readily smeared with sweetened "butter" like bags of crisps in the next 7-Eleven (yes okay, talking about Thailand here ;-).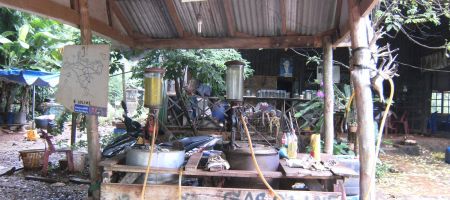 On Ko Mak. I absolutely love this photo, note all the little details: You can get GASOLINE (alternatively G ZOLINE) or DESAL here. There is a map of Ko Mak, making the shed almost look like the tools workshop in OpenClonk in it's clunkyness. Also note the lovely hand-pumps(?), I gather. And of course, can't be without, a photo of the king in the living room slash front porch area.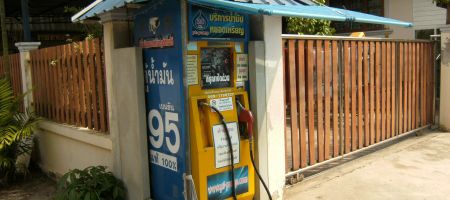 In Ayutthaya. A fuel pump in the format of a cash machine, quite cute. Though, I have to add, I am not sure if this isn't from a major fuel company here in Thailand.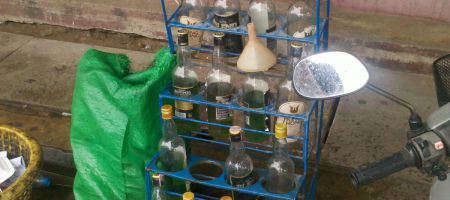 Fuel in bottles sold at 30 baht each at a snack shop – for motorcycles. I thought gasoline would be yellowish… What kind of stuff is that?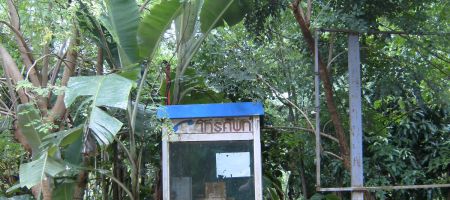 Another one of these tiny fuel pumps. Oh, pardon me, it's just a telephone cell. I would have said that they are a dying species, but this is wrong, they are still around every corner here. They are just not really used anymore, never saw anyone using it.