No update for quite some time now and this had quite a good reason. I am surprised why no one thought it was odd to see the inner of my eye in the last post… :) The reason was my lack of vision for I had gone for LASIK!
About a month ago, another German trainee, David, who works at the Chandigarh tourism department told me about tourism here. He told me that medical tourism is very strong here because it is whilst with the same standards, much cheaper than in Europe.1 I wanted to do LASIK anyway but planned to do it later when I earn (more) money since I can't afford it right now. However, I can afford LASIK in India – a great opportunity since I am already in India :-)
I informed myself about institutes which do LASIK in Chandigarh and settled for the Grewal Eye Institute which has a very good reputation.
I had no chance to post anything during the first days, so I'll post the things I wrote into my notebook in the first week:
Friday (16.11) – Surgery
The surgery was at 8:30 AM. I had to swallow a lot of medicine and apply some eyedrops the day before the surgery. I decided to do
Epi-

LASIK
. As I understood it,
LASIK
was not egible for me since my cornea is too thin. In
LASIK
, they cut into the front layers of the eye with a blade and then just open it like a cap before applying the laser. After the surgery, they would just close the cap again. However, this cut would have been too deep for my eyes. The alternative (Epi-Lasik) which takes longer to heal (3-4 weeks instead of 2-3 weeks) is to scrab open the surface of the eyes before applying the laser. After the surgery, I'd receive protective contact lenses as a patch for the eyes to avoid an open wound.
2
This sounds painful and yes, it is. Imagine a graze in your eyes.
During the surgery and some hours after this, my eyes were numb of course. I was awake during the surgery and my eyes were hold open by some kind of metal ring (This was the only thing that actually hurt). It took just about 10 minutes or less per eye.
There are nice videos and descriptions of the techniques in an
article on "The eye digest"
.
After the surgery I had to lie down for 4 hours were I should keep my eyes closed. I took a short glimpse and was astonished by the already much better view than I was used to without glasses. :-D
Only later in the evening, my eyes started to be not numb anymore. It didn't really burn yet but was very discomforting – I could hardly open my eyes without the reflex to close at once again.
Saturday – Day one
Uff, I had the worst night of my life. I got into bed about eight o'clock and just couldn't sleep because my eyes burnt like hell and I had such a big headache that I could have hammered my head against the wall all the time. I tried to get up at 8:00 AM to meet the next appointment on 9:00 AM in the institute but couldn't open my eyes at all. My eyelids were so heavy that when I tried to open them, they'd immediately fall down again – I guess partly because of reflex. How was I supposed to get the eye drops (2 eye drops four times a day, 1 eye drop every wake hour) in without being able to open my eyes?? I still felt horrible and even caught a cold (which added to my headache and closed my nose).
However, after some calling around, I found out a number for a cab service and finally got to the institute at 10:30 AM, nearly blind cause I couldn't open my eyes for longer than a second and was extremely sensitive to light (The cab cost me 50 Rupees < 1 Euro ;-)). My eyes were examined and they figured everything is OK so I could go home. The doctor told me a trick to insert eye drops when you are not able to open the eyes: Drip it onto the lacrimal gland (where the tears come from).
When I got home, I immediately fell into bed and actually managed to sleep till about 4:00 PM. And – I could open my eyes! Happy happy!
My fellow housemates were very caring, Sally even cooked something for me :-). I hadn't eaten since the day before so this was even more delicious than it was anyways.
Sunday – Day two
I got a lot less difficulties to open my eyes then, even though it was still too blurry to read anything and I was extremely sensitive to light. My head and eyes still hurt but on a scale one can bear up against. Normally when I am ill and have to lie in bed all the time, I read something – now this was not possible. I was so bored that I started to first develop a turn-by-turn strategy game like
Dark Crusade
and later a general 3D engine for Clonk in my head.
Monday – Day three
I feel a lot of better now and can even write (with big letters). I slowly recover from the cold and eat more regularly again. No complications were found on the examination on this day.
Now, the key difficulty of the 3Dengine is really the order in how to draw the objects, which objects are in front and which are behind these. Not to do it at all but to do it fast. Clipping and collision detection is not so much of a problem if I don't make it too complex or precise.
After all, I guess it will boil down to having a list of all objects for each camera in which the objects are ordered in the distance to the camera. This list has to be updated on even the slightest movement of an object. If the camera itself moves, even all objects have to be updated. To use an array instead of a list would be fatal since for every reorder of an object half the array would have to be re-sorted. The bad thing is, that I'd have to code a list for Clonk first without using (too much) objects since objects have a huge overhead in Clonk.
I really wished to write that down then, but I couldn't yet.
Tuesday – Thanksgiving
Today, my protective contact lenses were removed. It was really a pain in the ass to remove them since I have so small eyes. But in the end (after 20 minutes of pressing and pushing my eyes), he got them out. The burning of the eyes now turned into itching which is nearly worse than hurting – I constantly have to resist the urge to rub my eyes.
Today, our Americans in the house, Shannon and Dave organized a Thanksgiving feast and told us about Thanksgiving, the history and what it means to Americans. Really really nice, gotta do this for Nikolaus, I just have to sneak in everybody's room in the night before ;-). I helped with the cutting and cooking and the food was delicious – chicken, carrots, mashed potatoes and green beans, pie and ice cream after thatm. Mhh.
However, my in-head-development of the 3D engine has finally found it's way into my notebook… now I long for really coding it, hrm. My fingers itch.
Wednesday to Friday
I'm on the way to be better, really. I don't wear my sunglasses all the time anymore and I can read already. I went to the
AIESEC
office and wrote some of my notes in text files and got a virus on my usb-stick (which does not affect my usb-stick). This virus which spreads through removable devices has been on one of the two
AIESEC
PCs for nearly two months now and some idiot managed to transport it to the other PC to. They got no awareness at all for viruses at all! They even access their Gmail accounts,
AIESEC
network etc. from the infected PCs even though they know that there is a virus! And of course, nobody knows the Administrator password, no Windows CD in the office and no one cares anyway. I tried to explain to them that viruses are not just there to mock a little (virus prevented me from opening firefox, taskmanager, msconfig, even cmd together with a nice comment), they are programmed for a purpose!
3
However, I don't have any motivation to reinstall the systems for them when they don't care (and I don't have time), anyway. This ignorance just makes me angry.
Anyways, while the others troded off to the Pushkar Mela, a huge camel market and the biggest festival in Rajasthan, I stayed back home because all that dust in the desert and on the big bazaar might not be good for my eyes right now. A pity, for I'd have really like to have joined them! But I started to read the last Harry Potter book and have the best chances to read it through in 2 days time. :-)
---
1 I met a German eye doctor at the Grewal eye institute who spent his vacation to study at this institute for some weeks. He told me that with those standards and know-how, I'd pay about 4000 Euro in Germany. About 5 times the price I payed.
2There is a third technique which has just (September 2007) been introduced to this institute as the first in this region: Intralase. The corneal flap is created with the help of another laser, so no blade is used at all. The eyes will regain 100% eyesight in 3-4 days (as opposed to 3-4 weeks) and it is (almost?) painless. However, I couldn't afford this technique for it was double the price and Dr. Grewal assured me that the outcome will be the same. There are no additional risks in EpiLASIK as opposed to Intralase.
3"Imagine some stranger breaks into your house and just lives there from now on. Every now and then he punches you in the face and whenever you try to open the fridge, he bangs it shut and shouts 'DNT U DARE U DUMB!'. Would you leave the house knowing that he is in there or even write mails and do you bank business while he looks over your shoulder? Are you hoping that this virus is a fellow nice chap after all?" – "laugh… I'm not in the office so often anyway. I just access my google mail and the AIESEC network from here." – "OK forget it…"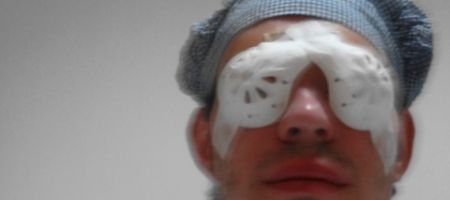 Right after the surgery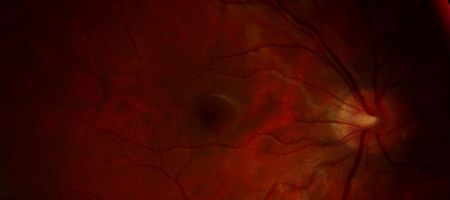 Just for the show: Another inner-eye view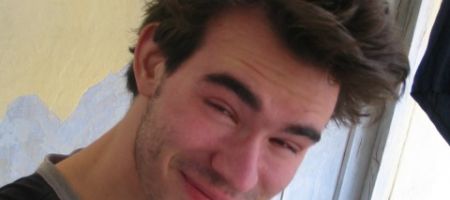 Open your eyes, sweetheart! :-)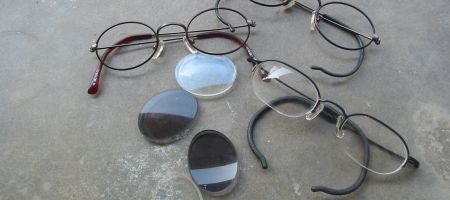 Goodbye! (Thrashed my glasses after this photo)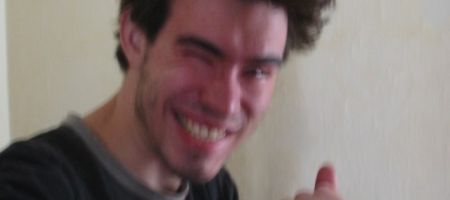 "Yesssss!"
Comment
Oh my! You cut your hair!
Haha.
Congrats on no glasses anymore!
Ooooh…the final Harry Potter…have you gotten to chapter 33 yet? It makes it aaaaaall worth it. :D
Yes, I had to think about you when I reached the end of the book. During the book it did seem that you were mistaken with your assumption but it turned out that you were exactly right. :D
> Oh my! You cut your hair!
Ist mir auch als erstes aufgefallen :D
Und wie geht's deinen Augen inzwischen?
— Clonkonaut · Dec 1, 02:15 PM · #
That's just because I know Severus so well. ;)
But yeah, the book was causing me an INSANE amount of anxiety throughout – when he flew out the window, I thought, "If this is the last we ever see of him, I will pretend Deathly Hallows never existed!" – and I had to remind myself several times not to give up on him until the last goddamn page.
How'd you like the book, overall?