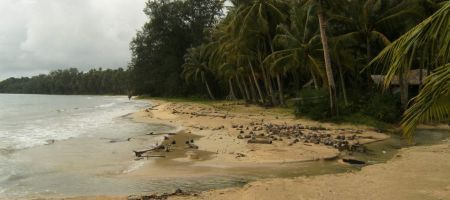 It took me three weeks to finally visit one of the many islands in Thailand.
Lena has quite a unfortunate class schedule this semester, she has only 14-something hours to teach, but her lessons are scattered all over the week in a way that she doesn't have more than two days off in a row as she has to get to Bangkok center for a class on Saturday.
So far I didn't really want to visit all the "cool places" without her.
But this weekend, there were some holidays in Thailand so we had time for 4 days in a row. We decided to visit Ko Mak. Ko Mak is a beautiful tropical island far away from the tourist centers and is (supposed to be) laid-back even during high season. It's shores are skirted by beaches, coconut palmtrees and inviting wooden bungalows. While exploring the island, we also saw a few gum plantages. On the northern end of the island, following a signposted bicycle trail, we also visited one of the three(?) villages on the island which was titled as "primitive community" by the bicycle trail signs :-D. I wonder why the people in that village are not offended to be called primitive by these signs (and who put them up).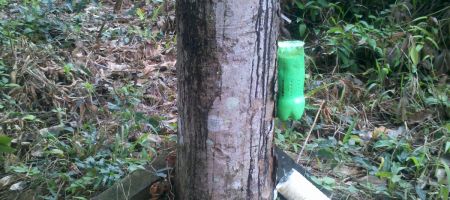 Gum tree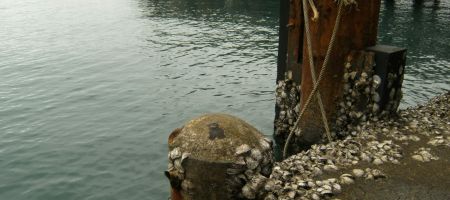 One of the piers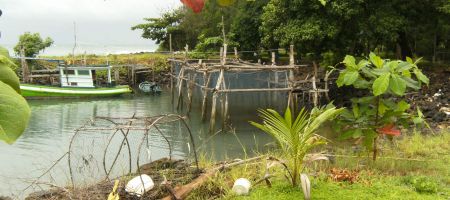 Crab traps (I think)
On this island, it is quite apparent during low season that it is low season, though.
I'd say about three quarters of all the accommodation and restaurants are closed. Speed boats go only twice a day and had to be booked in advance. Regular wooden ferries just go twice a week and take three hours to reach the island.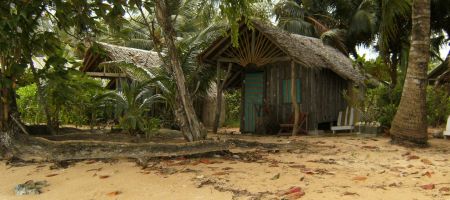 Also, one can expect that it will rain heavily at least once a day. It's still 27°C here, so it is a warm rain and it didn't hinder us to rent bicycles and explore the island. Much to Lena's demise, I had to stop every few hundred metres and note down the street names for the mapping project and of course, I had a general tendency to cycle down the uncharted muddy tracks instead of the concrete main roads. ;-)
Here is a map of the gps trace and the notes I made during our bicycle tour(s):