There are almost no classical Tuk Tuks in Laos. Looking at state of the roads in Laos, it is no wonder why. Except for the main roads, most roads are unpaved, rocky tracks.
With those tiny wheels and bad suspension, they would break pretty quickly.
So, instead, there is the Skylab!1
It looks like a massive motorbike with broad all-terrain tires (depending on the area) and the latter part of that bike replaced with a colourful wagon with two tiny benches left and right, pretty much like a "song thaew".
Of course, no Skylab is complete without adding lotsa colourful lights, shiny stickers and the most important thing: A hammock in the wagon-area to relax while waiting for customers. Just for the latter, it is so much cooler than a standard Tuk Tuk! :-)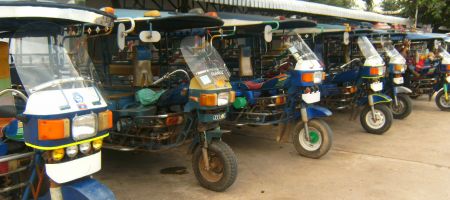 ---
1
No, I have no idea why it is called that way. Sometimes they are called Jumbos as well, that nickname is more comprehensible. It can transport up to 6 people instead of 2.